It has been a week since I have posted.
Life has been amazing.
I am happy. Truly happy.
After making the
decision
to try to sell some quilts, I couldn't wait to get started. I told my boys (who have been very patiently waiting for me to make their quilts) and they were ok with me fitting some other projects in between working on theirs... again.
Didn't want my Little Man to think I was completely forgetting his so I pull out all his blocks and we started laying them out. This was our first try:
Pretty random. Tried to keep colors away from each other, but something about it wasn't feeling right. Even with the Little Man. So we picked them up and tried again.
(Yup, I am short a few squares...good thing I have more fabric.)
We are liking this much better.
And I realized that I don't only need 3 more blocks on the right but I need a whole other row. Then I think it will be big enough for a twin size.
Since taking these pictures, I have sewn one row together. Turns out it is further from done than I was thinking. The finished blocks are suppose to be 8x8 and mine are bigger than that so I have to square up each of them before sewing them into rows. Oiy, this is a lot of cutting...and measuring...not something I have had to worry much about in my other quilts. But this one I want perfect (surprise, surprise...I am a perfectionist).
I also went out and bought some charm packs of Comma for moda to make my first Joshua's Angels quilt. I have been eyeing this collection since I first saw it. I have 6 rows done and need to get a solid for a border to make it a little bigger.
Here is a peek at 3 of the rows.
Not the best picture, sorry. I promise to have better when it is all done.
I am trying to keep track of the amount of time I work on it and definitely the amount of $ that goes into it. I may ask for a little help on how to price it when I finish. I want it to be reasonable especially since it is going to the CF Foundation. But I don't want to sell myself short either. This may be my biggest struggle with selling quilts. Will there be a market for what I do and do people have the money to spend. Even if it is for charity...
Linking up again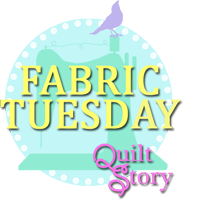 Wow....it is Wednesday not Tuesday!
Guess I will link up here too then.